topher gayle custom instruments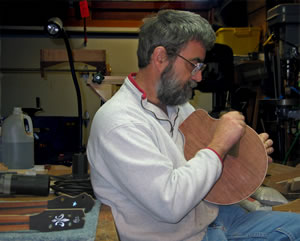 I build high quality custom instruments, using your choice of woods, hardware, and decorative features. I bring the sensibilities of a professional multi-instrumentalist to the craft of lutherie. I design instruments with a musician's knowledge about playability and excellent sound.
I've made a variety of instruments: guitar, electric mandolin, electric oud, ukulele, and Ashbory-style bass. I'm especially pleased with my adaptation of the resonator mandolin, which I call a Mandonator™. These sweet-sounding 4 or 5 string instruments always get a lot of attention. You can learn more about them on the Mandonator™ pages.
My most recent innovation is the Requintonator™. This is a 6 string resonator instrument, tuned as if a regular guitar had a capo on the 5th fret. It's proved to be a wonderful instrument. For more information, read about the Requintonator™.
I'd like to make an instrument for you. Look over the Luthier pages to see what I do. Let's work together to design what you want.
My shop is in Santa Rosa, California, about an hour north of San Francisco.