teaching: instruction & materials
Topher teaches private lessons, workshops, and at music camps. With all his students, Topher emphasizes the fun to be found in playing music – whether playing by ear or from sheet music; whether writing new songs or learning the classics; whether playing alone, in a jam, or in a band.
Topher encourages his students to contact him if they have any questions about their music study.
Private Lessons
Topher offers private lessons in Santa Rosa, California.
Mandolin
Beginning through advanced. Styles include Celtic, swing, bluegrass, and more.
Guitar
Beginning through advanced. Styles include blues, folk, bluegrass, rock, swing, and more. Flatpicking and fingerstyle techniques.
Ukulele
Beginning and intermediate. Various styles. It's a ukulele! Anything goes!
Bass
Intermediate level string bass, electric bass, and Ashbory bass. Styles include bluegrass, blues, and rock.
Theory
Most students will be introduced to the practical side of theory - the things that explain what they're learning technically, and that help players jump to the next level of musicianship. Reading and writing score, and more in-depth instruction in music theory is also available for interested students.
Percussion
Beginning and intermediate doumbek, applied to jigs, reels, and Middle-Eastern rhythms. Many of the techniques, concepts, and rhythms are applicable to other hand percussion instruments.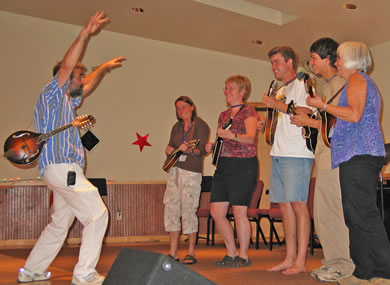 $50 for an hour
$30 for a half hour
Location: Santa Rosa CA
For more information or to arrange a lesson, contact Topher
Email: music@TopherGayle.com
Phone: 408-221-9378
Workshops
Topher has taught numerous classes at music camps. He's been an instructor multiple years at California Coast Music Camp, Puget Sound Guitar Workshop, and Rocky Mountain Fiddle Camp. He's also been a teaching assistant many times at CBA Music Camp and Walker Creek Music Camp, an instructor for Nell Robinson's "Take the Stage" program, and has taught other workshops in the SF Bay area.
Topher offers the following as single or short series workshops:
Mandolin, all levels
Guitar, beginning and intermediate
Songwriting
Song "twisting"
Funny songs repertoire
Band coaching
Bluegrass harmony singing
"Reading" a guitar player's hand
Improvisation
Practical theory
Introduction to chord theory
Stagecraft
Basic PA use
Using a computer to help you practice
Using a computer to help you compose tunes
Setting up a computer-based home recording studio
For more information, or to arrange booking, contact Topher
Email: music@TopherGayle.com
Phone: 408-221-9378