performance
Instruments and Genres
A versatile sideman, Topher plays a variety of string instruments and hand percussion. He is also a competent vocalist and has an excellent ear for harmony. He is adept with many genres of music, including folk, rock, blues, bluegrass, swing, MoTown, reggae, Celtic, and Middle-Eastern.
Topher plays the following instruments:
Mandolin family: mandolin, mandola, 5-string Mandonator™, Irish tenor banjo
Guitar family: acoustic, classical, resonator, and electric guitar. He flatpicks and fingerpicks.
Bass family: upright, electric and Ashbory bass
Percussion: doumbek, cajon, cowbell, and various other percussive doo-dads
Ukulele
Current Bands
Mercury Rising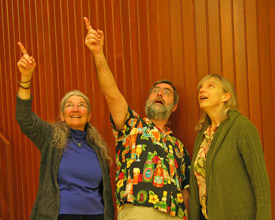 Raising temperatures and launching dances from Monterey to Seattle, this West coast contra dance band features Lee Anne Welch on fiddle, Ruth Anne Fraley on piano and Topher Gayle on an assortment of plucked string instruments and percussion. When they play, feet begin tapping and itching to dance.
Swingin' Chickens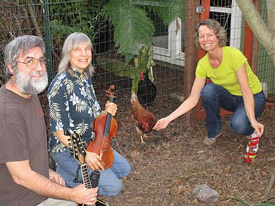 Wanna dance? This SF Bay area band will be cluckin' and pluckin' for your contra dancing pleasure. The chickens are all seasoned musicians with many years of playing contra dances and other genres of music: Lee Anne Welch (fiddle), Rebecca King (piano), and Topher Gayle (various string pluckin' instruments and percussion).
Silver Horse
This Sonoma County based band delivers Americana music with country and blues inflections.
Twisted Trio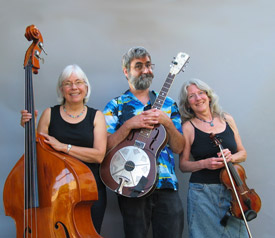 This fun band offers a collage of original, swing, bluegrass, and novelty tunes, and is ripe with wonderful harmony singing. The phrase "instrument roulette" hints at the collection of musical instruments involved, and who plays them at any given time: Chris Finn on bass, mandolin, and ukulele; Louisa Knabe on fiddle, Mandonator™, and bass; Topher Gayle on various guitars, Mandonator™, ukulele, and tenor banjo. There may be a few instrument surprises as well!
Twisted Trio has relocated to Sonoma County from the SF Bay area. Venue appearances have included the Campbell Wine Walk, Mission Pizza, Palo Alto Festival of the Arts, the Ugly Mug, and Vintners Festival at Vine Hill Winery.
Sideman
Topher is in demand as an accompanist. He's well-known for his tasteful backup, instrumental and stylistic versatility, and congenial personality. As the occasion required, he has provided acoustic, resonator, and electric guitar, mandolin, mandola, tenor banjo, bass, ipu, cajon, doumbek, and vocals. Some of the artists he has accompanied include:
Previous Bands
Wild Cat Mountain Ramblers
Until moving north of SF Bay, Topher played mandolin and sang a few with this high energy bluegrass band.

The Rosin Doctors
This foot-driving contra dance band was full of fun surprises, employing many different instruments and music genres. The doctors were Dan Engle, Erik Hoffman, and Topher Gayle. The Rosin Doctors played dances throughout the San Francisco Bay area.

Coyote Blue
Coyote Blue pleased music lovers with their unique blend of jazz, bluegrass, classical, swing, ballad, rock, and original tunes. They provided a marvelous mix of vibrant vocals, delightful harmonies, and blazing instrumental solos. Topher played Mandonator™, mandolin, mandola, resonator guitar, and vocals.

Jugtown USA
A jug band tribute to the Motown greats, this 8-member band assembled for a single major performance in honor of Motown's 50th anniversary. They played to a very full house at Don Quixote's International Music Hall, with even standing room in short supply. Topher was delighted to change instruments frequently, playing 5-string Mandonator™, guitar, tenor banjo, ukulele banjo, and bugle kazoo.

Just Picked String Band
The Just Picked String Band plays bluegrass and Americana music primarily in the south SF Bay area. Topher enjoyed contributing vocals, mandolin, and guitar until moving north of the bay.

The Janet Lenore Band
The Janet Lenore Band served up funny and serious songs, originals, folk and Americana with a wide variety of musical influences. The band featured Janet Lenore on vocals and guitar, Topher Gayle on vocals, resonator guitar, and Mandonator™, and Jeff Davis on electric bass. Appearances included Big Lil's Cabaret, Berkeley Free Folk Festival, Palo Alto Festival of the Arts, and Mission Pizza.

The OpporTunists
The OpporTunists had built a reputation as a dynamic contra dance band prior to disbanding when the founding member relocated to Oregon. They frequently played for dances throughout the San Francisco Bay area. They also made a number of tours to the US East coast, Pacific Northwest, and Southern California, and were featured at the Almost Heaven and Balance the Bay dance weekends. Topher contributed on bass, percussion, 5-string Mandonator™, mandolin, guitar, and tenor banjo.

Briarwood
Briarwood delivered bluegrass-inflected Americana music with wonderful acoustic instrumentation and tight vocal harmonies -- up to five parts! There was always a healthy dose of humor thrown in for fun. Briarwood's debut CD was released in 2005. Topher played bass, mandolin, and guitar.

Ballistic Cats
Topher played electric bass and sang a little bit in this rocking surf/blues/rockabilly group.

Uke Be A Lady
Uke Be A Lady grooved on tunes from the Swing era, Tin Pan Alley and the Jazz Age. The band featured singer/ukulele player Miss Mona Lott (aka Jayme Kelly Curtis), violinist Miss Wanda McGlove (aka Autumn Hancock), and Randy Baton (aka Topher Gayle) on bass and protection.

Far Frummet
Topher wrote tunes, sang and played electric guitar and bass with this band.

Famous Last Words (of Boston)
This band evolved from Far Frummet, and released the 45 rpm single "Boston Driver" in the early 1980's. Toph wrote tunes, sang, and played electric guitar, bass, and percussion.

The House Band (of Merrimack Valley)
Toph sang and played mandolin and guitar in this bluegrass/jazz band.