About the musician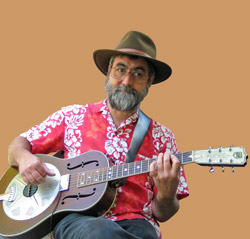 Topher Gayle has had fun playing music most of his life.
In the Beginning
He was but a whelp when his mother required him to play piano. He didn't enjoy the lessons, but fooled around with the piano when he thought nobody was listening, having fun improvising. His mother delights in telling how she caught him "practicing" a piece in a different key than the score! In high school, after several years of singing in choral groups, he discovered that boys who played guitar were popular with girls, and life would never be the same.
His first guitar was a Harmony Stella, a $25 plywood box with thick steel cables for strings, and terrible action. Topher played it til his fingers ached and thick calluses formed on his fingertips. It wasn't long til he joined his classmates in a couple of rock groups. In his senior year, Topher took classical guitar lessons, music theory and composition, and built his first serious musical instrument, a classical guitar. He graduated with honors in music in 1974.
The Early Years
With the notion of a career in music, Topher enrolled at Boston University, concentrating in music composition. After completing three years, he got serious about how he might make a living, and transferred to engineering school. During Toph's engineering career, music remained a major part of his life. He continued writing and playing music with friends, started playing mandolin and doumbek, and discovered bluegrass, newgrass, and Middle Eastern music. After retiring from engineering, he's been able to pursue musical interests full time, and he's never been happier!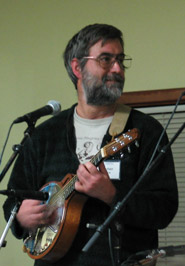 Time Marches On
Topher has always enjoyed the social aspects of music-making. He most enjoys working with musicians who have fun together. So it's natural that he's in a bunch of bands with a bunch of different people playing many styles of music. 

Topher is in demand as an accompanist for singers and songwriters. He's well-known for his tasteful backup, instrumental and stylistic versatility, and congenial personality. He's also often asked to lend his compositional and arranging skills.

Topher's composer/arranger interests led him to put together a home recording studio. There he's produced sheet music and demos for songs and tunes he's written, and he's recorded and mastered CDs for himself and other musicians.
Teaching
Toph really likes music camps, where he's had the pleasure of working and playing with many wonderful students, artists, and teachers. He's been an instructor multiple years at California Coast Music Camp, Puget Sound Guitar Workshop, and Rocky Mountain Fiddle Camp. He's also been a teaching assistant many times at CBA Music Camp and Walker Creek Music Camp, an instructor for Nell Robinson's "Take the Stage" program, and has taught other workshops in the SF Bay area.
He also gives private lessons in Santa Rosa, California. He teaches mandolin, guitar, ukulele, and percussion in several styles, as well as a range of technique, theory, and workshop topics. In all his classes, Topher emphasizes the fun to be found in playing music – whether playing by ear or from sheet music; whether writing new songs or learning the classics; whether playing alone, in a jam, or in a band.
The joy of music-making
Toph seems to be a magnet for instruments. Of course, the types of guitars proliferated -- classical, acoustic, electric, bass, resonator. He learned to play mandolin because too many jams had too many guitarists. The mandola was an inevitable next step. When his bluegrass band lost its bassist, he started playing upright bass. Although he first used doumbek to accompany Middle Eastern music, he discovered it's terrific for jigs and reels in his contra dance band. When a sweet tenor banjo crossed his path, he was smitten. And how could anyone resist a ukulele .... Topher loves to be able to provide whatever instrument suits the music best.

In addition to playing many instruments, Topher enjoys playing and listening to many styles of music: blues, bluegrass, R&B, MoTown, rock, folk, swing, reggae, Celtic and much more. He has a particular love of funny songs, and of what he calls "tune fixing" or "genre abuse." He is also a competent vocalist and has an excellent ear for harmony.
As a versatile multi-instrumentalist, Topher can be found contributing to many music groups and projects -- and beaming with pleasure to be able to do so.