What is a Mandonator™?
I build high quality custom resonator mandolin variations with 4 or 5 strings. I call them Mandonators™. Mandonators™ are loud, sweet-sounding, and easier to play than regular 8-string mandolins and mandolas.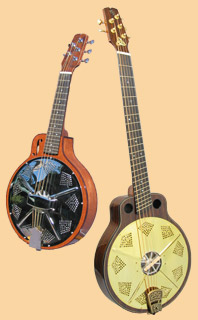 Why easier to play? Since Mandonators™ are so much louder than standard mandolins, single strings are all that's needed to produce the tone. Also, because the instrument has so much volume, light-gauge strings are quite adequate to make lovely tone. The result is that you can more easily press the strings down.
It also means that you can play a Mandonator™ fingerstyle. It's hard to play fingerstyle on a double-course instrument, but it works well on this single-course instrument! An example can be heard on the tune Rusty Bucket on the Listen page.
Yet I think the main joy of these instruments is their pure, sweet tone. The tone is a bit like a blend of an electric mandolin (think Tiny Moore with the Bob Wills Band), a resonator guitar, and a standard mandolin.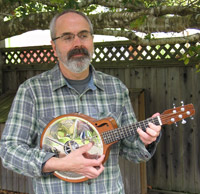 A testament to the quality of the tone is that John Reischman, a virtuoso mandolinist who is often acclaimed for his phenomenal tone, taste, and musicianship, is the owner of Mandonator™ #2.
I find that a Mandonator™ is exceptional for Celtic, swing, jazz, and blues playing, and quite functional in country, rock, and folk settings as well. And I've played bluegrass with it - why not?
Mandonator™ Family
Listed below are some of the Mandonator™ family variants. All of them are based on the same body. But the scale length, number of strings, and tuning are different (as is the neck, to accommodate these differences). Other scale lengths are possible as well.
Instrument
Number
of strings
Tuning
(high to low)
Scale Length
Mandolin
4
E-A-D-G
13.875"
Mandola
4
A-D-G-C
17.0"
Mandolin-Mandola
5
E-A-D-G-C
14.295"
Octave Mandollin-Mandola
5
E-A-D-G-C
~22 to ~23.25" (multiscale)
Requintonator™ Variation
I also build a 6-string variation that's tuned A-E-C-G-D-A, high to low (scale 19.2"). Essentially, it's a small, short scale resonator guitar, as if a regular guitar had a capo on the 5th fret. Although this instrument is an offspring of the Mandonator™, it's not technically part of the mandolin family, and has its own tonal character. So I've given it its own name: Requintonator™, based on a traditional instrument with this tuning called a requinto.

Custom Instruments
Commercial resonator mandolins are only available with 8 strings, and with no choice of body, head or neck configurations. When placing a custom Mandonator™ order, you can choose from a wide variety of woods, configurations, and decorative features. Your choices begin with 4, 5, or 6 strings, type of wood, single or no cutaway, and snakehead or curvy paddle headstock. But that's just the beginning! See the Pricing page for some of the features. Write or call me for details about the many custom options. I'll be happy to talk about building your dream Mandonator™.

Hear sound samples of a Mandonator™ on the Listen page, see detailed photos of completed Mandonators™ in the Gallery, and view some Mandonators™ under construction on the Shop Talk pages.
For more information or to order a Mandonator™, please contact me.
Mandonator™ Newsletter
Four or five times a year, I write a short description about what's been happening Mandonator™-wise in my shop and email it to people on the newsletter mailing list. If you'd like to receive the Mandonator™ newsletter, send me an email saying so. I will not share your email address with anyone else.