Ukuleles
Uke Overview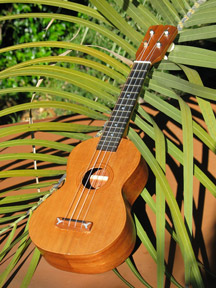 The ukulele is an instrument that makes you smile when you see it, even before you play it! I love playing ukes, and I love making them.
My ukes sound and look great, and are made from a variety of exotic and domestic woods. Fancy inlays and pickups are optional.
The photo on this page is of ukulele serial #1. It has Koa back and sides, cedar top, and hand-etched and cut mother of pearl hummingbird inlays on the bridge.
You can view photos of completed ukuleles in the Uke Gallery.
Due to a backlog of Mandonator™ orders, I'm currently not accepting orders for ukuleles.