Ukuleles
Uke Gallery
= Ukulele Serial #1 ===
I built this soprano ukulele as a present for my wife. Shortly after receiving it, she restrung it to be tuned like a fiddle. She's a fiddler, and was following a recommendation to use a uke tuned like a fiddle to help learn to think chordally. A mandolin would do too, but a uke is more friendly, portable, and easier on the fingers.
Features include:
Four strings with standard soprano scale
Koa back and sides
Cedar top
Mahogany neck
Ebony fingerboard
Koa headstock veneer
Mother of pearl fingerboard inlays
Hand etched and cut mother of pearl hummingbird inlays on bridge
Shellac/wax finish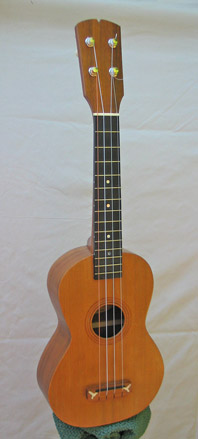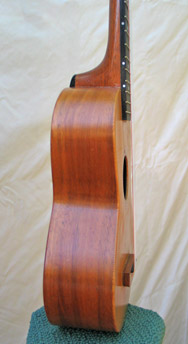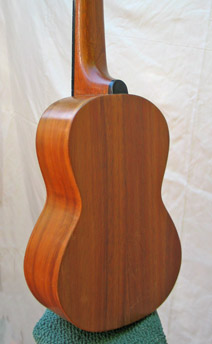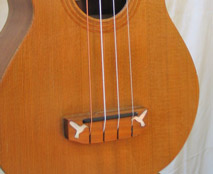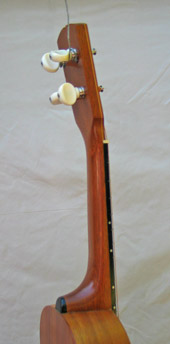 = Ukulele Serial #2 ===
This instrument was inspired by a Manuel Nunez soprano uke from my childhood, but is not a copy. Although I built it for my own satisfaction, I played it only a few days before someone fell in love with it and I accepted their purchase offer.

Features include:
Four strings with standard soprano scale
Koa back and sides
Spruce top
Brazilian rosewood fingerboard and bridge
Mahogany neck
Koa headstock veneer
Rosewood binding
Mother of pearl fingerboard inlays
Gloss finish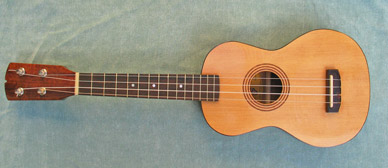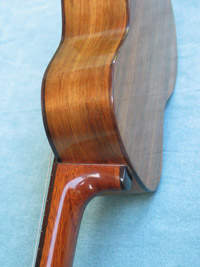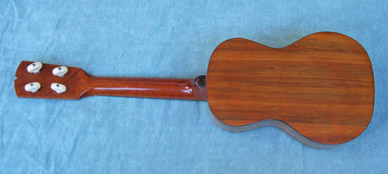 = Ukulele Serial #3 & #4 ===
These two soprano ukes have quite a story. My friend Scot's dad was a high-school shop instructor. Scot's a woodworker too, and one of his earliest memories is of making birdhouses with his dad. His dad's wishes were to have his ashes buried at sea, so Scot made a lovely box from walnut, padauk, and birdseye maple scraps to contain the ashes til the sea burial could be done.
Afterwards, Scot asked me to use the wood to make a ukulele. By adding some mahogany I'd inherited from my dad's stock (who was also a woodworker) I had enough wood to make two ukes. But since the walnut salvaged from the box was too short for a standard soprano ukulele body, I designed a shorter, squatter body shape. Also, in tribute to Scot's dad, I inlaid hummingbirds on the headstocks.
I am honored and delighted to have been asked to make these ukuleles, and I had a lot of fun making them.
Features include:
Four strings with standard soprano scale
Walnut back, top, and sides
Mahogany neck
Padauk fingerboard
Walnut headstock veneer
Mother of pearl headstock, rosette, and fingerboard inlays
Rosewood binding
Glossy lacquer finish by Addam Stark of Santa Cruz