store
Hand Over The Chords!

How to Read Chords from a Guitar Player's Hand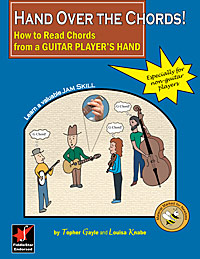 You're at a jam. You don't know the tune. How can you pick up the chords on the fly?

This book helps you learn how to identify the chords to a tune on the fly by watching ("reading") a guitar player's hand. Experienced musicians frequently use this technique to enable them to play along on tunes they don't know. If you learn to recognize just 7 main chord shapes, you'll be able to identify the chords to many, many tunes and songs.
The book includes:
The secret to "reading" a guitar player's hand
Learn to identify the most common chords
Flash cards for practicing
Annotated photos of chords shapes
How to recognize capo chords and bar chords
Alternate shapes for common chords
More! See entire Table of Contents
Written by Topher Gayle and Louisa Knabe, the book presents chords commonly used in bluegrass, country, folk, old-time, and rock styles of music. Here's a sample page.
= = Accolades = =
Topher and Louisa have done a bang-up job of laying out the basics needed for chord shape recognition. ... After studying this book, a non-guitarist will be able to jump into jam sessions with new confidence. By simply glancing at the guitar player's hand, they will be able to know the chords! ... Hand Over the Chords is highly recommeneded.
– Paul Anastasio, review in Fiddler Magazine, Spring 2010
This is a wonderful guide which will help move you so far forward in your jamming skills you'll wonder what you ever did without it. I'll be using 'Hand Over the Chords' with all my students and at my camps. This is the book I've been waiting for!
– Megan B. Lynch, National Fiddle Champion and instructor
I have found this book to be a HUGE help. Instructors always say, "Just watch the guitar player for the chords." That's great if you know what you're looking at. I didn't...until Topher's book.
– K.C. King
U.S. orders: Price includes tax and shipping
International orders: Please email Topher at music@tophergayle.com for shipping options.