store
The ORKNEY Companion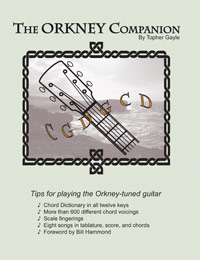 This 58-page book is just bursting at the seams with information for guitarists learning the beautiful Orkney tuning
(C-G-D-G-C-D). Written by Topher Gayle.
The book features:
Over 600 chord voicings organized by key. See a sample chord page.
Tips for the DADGAD guitarist looking for something new
Eight tunes in TAB and score with chord grids
Four useful scale fingerings
Tips on capo use in Orkney
More! See entire Table of Contents
You can download a page of easy, useful Orkney chords for free (PDF format).
The following wonderful artists use Orkney tuning. Check out their websites!
Steve Baughman. Steve is one of the planet's most enthusiastic Orkney evangelists, with many Orkney tunes on his recordings.
Bill Hammond. You can hear Orkney on his tunes Mark's Motorbike, Hector the Hero, and If I Gave You.
Chris Proctor. Chris writes philosophically about alternate tunings in general and Orkney tuning in particular.

Price includes tax and shipping for U.S. orders.
To order from outside the U.S., please email Topher at music@tophergayle.com for details.