store
Put Another Bullet in The Jukebox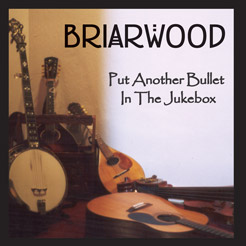 Briarwood was a favorite band at the Fremont, CA music venue, Mission Pizza, for years. This CD captures some of the fun of those performances.
You'll hear all the standard bluegrass instruments, and you'll find refreshing surprises in the selection of songs. Put Another Bullet in the Jukebox presents bluegrass-inflected Americana music with wonderful acoustic instrumentation and tight vocal harmonies.
U.S. orders: Price includes tax and shipping
International orders: Please email Topher at music@tophergayle.com for shipping options.
Contents
Put Another Bullet in the Jukebox
Compadres in The Old Sierra Madres
Leftover Biscuits
Angel Eyes
Old Home Place
Old Memories (Mean Nothing to Me)
What's Done Is Done
Passion Train
Steel Rails
Dr. Dean
Blue Train
Joe Buczek: Banjo, Resonator Guitar, vocals
Chris Finn: Mandolin, vocals
Topher Gayle: Bass, vocals
Rachel Rosenberg: Fiddle, vocals
Craig Sutherland: Guitar, vocals
= = Accolades = =
I listened to your CD (cover-to-cover) this morning on my way into work. I am quite blownaway... really really good. Sound quality is superb, levels and mix are just right. There is a light "airiness" to the recordings that really adds. I also like the absense of effects (no reverb, etc). And of course.. the music is so nice. Vocals and instruments nicely blended and complimentary.
– Dave W.
Got your album... it's great, I love it. We've been playing a lot of dark music lately and this is really bright and out there!"
– Joe Z.