store
Fiddle In a Tree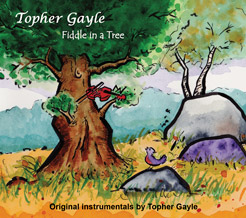 Fiddle in a Tree is a collection of instrumental tunes that explores many evocative moods and styles - from the strutting, bluesy "Lobster Stroll," to the powerful, Dawgish "Dark and Stormy," to the serene, jazzy "Blue Heron." And there are three lovely waltzes! Julian Smedley perfectly captures the melodies and then improvises on them within the mood of each piece. Chuck, Topher, David, and Louisa add their own signatures to the tunes as well, with fine solos and thoughtful accompaniment. It's an enjoyable listen: alternately toe-tapping, quirky, sweet, and funky.
All tunes were written by Topher Gayle, except "Homesick for the Westland."

Price includes tax and shipping for U.S. orders.
To order from outside the U.S., please email Topher at music@tophergayle.com for details.
Hear sound samples and purchase downloads on the Apple store.
Contents
Topher Gayle: guitar, mandolin, mandola, Mandonator™
Julian Smedley: violin, viola
Chuck Ervin: bass
David Lange: accordion
Louisa Knabe: bass