store
She's So Hot!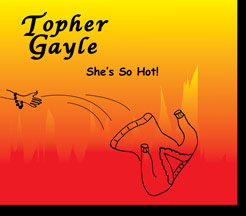 This CD is a delightful combination of fun songs and good music, spanning a wide range of subjects and styles. A reggae song about love and larceny, a jazz song about menopause, a Caribbean-inflected song about baking cookies, and an acoustic rock song about elevators are just a sampling of this trip into Topher's imagination.
Warning: these songs might make you smile. They might even cause you to chuckle or laugh.

Price includes tax and shipping for U.S. orders.
To order from outside the U.S., please email Topher at music@tophergayle.com for details.