store
Waltz of Wings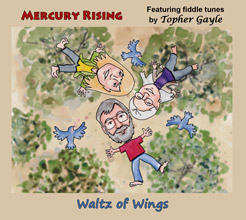 Waltz of Wings brings you the hot dance music of contra dance band Mercury Rising! Topher, Lee Anne, and Ruth Anne interpret some of Topher's original compositions, mixed with classic and new dance repertoire. Stomping reel sets alternate with groovin' jig sets and waltzes in the way that Mercury Rising fans have come to love. Come dancing with us!
Price includes tax and shipping for U.S. orders.
To order from outside the U.S., please email Topher at music@tophergayle.com for details.
Contents
Music score for tunes written by Topher is available by clicking the "Score" link.
Topher Gayle: mandolin, guitar, doumbek, octave mandolin
Lee Anne Welch: fiddle
Ruth Anne Fraley: piano