Gallery of Mandonator™ Instruments
= Mandonator™ Serial #2 ===
I built this instrument as a prototype, but I played it steadily for three years. In February 2012, I sold it to virtuoso mandolinist John Reischman. It has 5 strings, tuned EADGC (high to low), making it both a resonator mandolin and mandola.
Optional features are:
Five strings with 14.295" scale
Mahogany back and sides with camatillo rosewood binding
Mahogany neck
Ebony fingerboard
Snakehead shape, walnut veneer headstock
White mother-of-pearl fingerboard inlays
Nickel plated hardware
Gotoh 510 Mini tuners
Stamped Gibson-style tailpiece
Radiused fingerboard
Standard features include:
Spherically arched back
Spider bridge and resonator cone
Cutaway
Traditional F-shaped soundhole
Maple saddle
Bone nut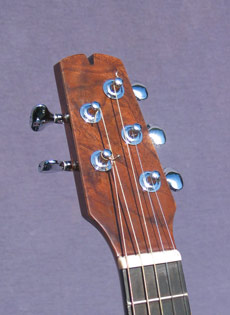 Walnut burl headstock veneer sandwiched over holly. I hadn't yet designed my 'TG' headstock inlay, or I would have included it.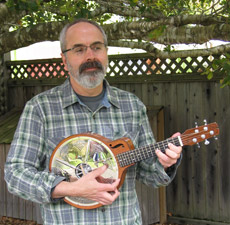 After a year of owning Mandonator #2, John Reischman commented, "... it is a great instrument and I am glad to own it."
The body and neck is of mahogony with camatillo rosewood binding