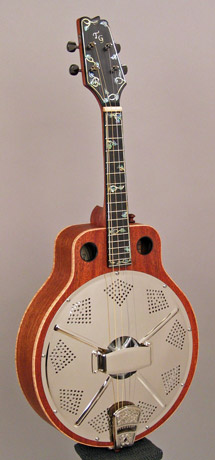 = Mandonator™ Serial #16 ===
This is a 4-string resonator mandolin. It was commissioned by Sue L.
The optional features she chose are:
4 strings with 13.875" scale
Khaya mahogany with curly maple binding
No cutaway
Two round soundholes, lined with African ebony
Khaya mahogany neck
Snakehead head shape

Ebony headstock veneer

Gold MoP and Paua "nouveau" inlays on headstock and fingerboard

Orrico tailpiece and Gotoh Stealth tuners

Stain and Formby's satin tung-oil finish
Standard features include:
Spherically arched back
Nickel plated hardware
Radiused fingerboard
Spider bridge and resonator cone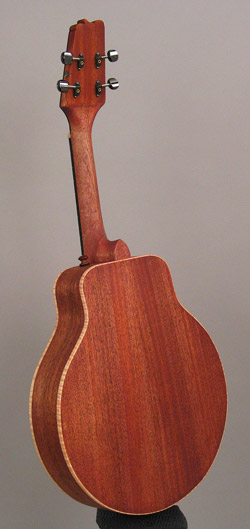 This is the first time I've used Gotoh Stealth tuners on an instrument. We chose them because they're very light weight. As you can see, there's a minimal amount of metal.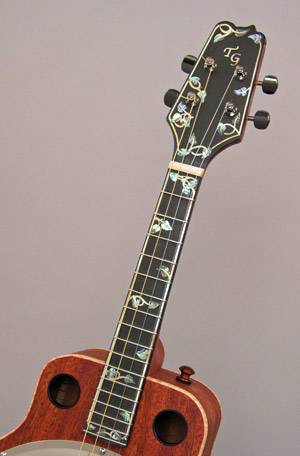 The "nouveau" inlays turned out quite beautiful on the headstock and fingerboard. They really glow when light hits them!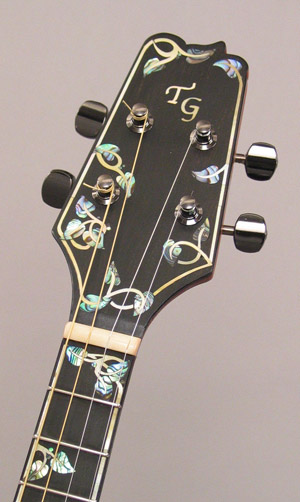 Here's a closer look at the inlays.
You can see photos of this instrument under construction on its Shop Talk page.