Gallery of Mandonator™ Instruments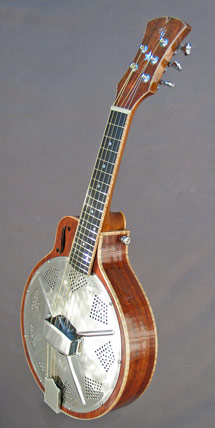 = Mandonator™ Serial #7 ===
This instrument was commissioned by multi-instrumentalist Alan Bond.
The options he chose are:
Five strings with 14.295" scale
Bubinga back and sides with curly maple binding
Mahogany neck
Ebony fingerboard bound in curly maple
White mother-of-pearl diamond shaped fingerboard position markers
Curvey, paddle shape headstock with bubinga veneer, bound with curly maple
White mother-of-pearl star inlay on headstock
Nickel plated hardware
Gotoh 510 Mini tuners
Cast James tailpiece
Radiused fingerboard
Standard features include:
Spherically arched back
Spider bridge and resonator cone
Cutaway
Traditional F-shaped soundhole
Maple saddle
Bone nut
Glossy lacquer finish by Addam Stark of Santa Cruz

Bubinga body with curly maple binding.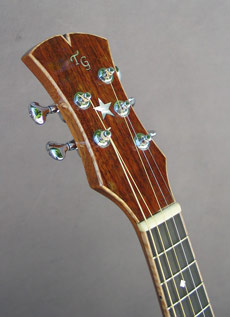 Bubinga veneer headstock with curly maple binding and white mother-of-pearl inlay. Alan requested a fan shape head.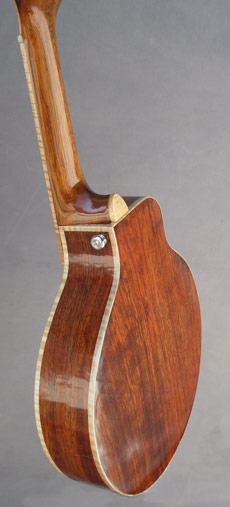 The curly maple binding ripples with motion in the light. The neck is mahogany.
The use of curly maple on the heel cap, and to bind the body, fingerboard, and headstock resulted in a lovely appearance.

You can see photos of this instrument under construction on its Shop Talk page.