Gallery of Mandonator™ Instruments

= Mandonator™ Serial #8 ===
This is a 5-string octave mandolin-mandola. The tuning is like a 5-string Mandonator™ (EADGC), but an octave lower. Another way to look at it is that it's a combination of an octave mandolin and a mandocello with a resonator. You can hear it on the Ghost Riders video on the Listen page.
The optional features are:
Five string octave (~22 to ~23.25" scale)
East Indian Rosewood body with ebony binding and herringbone purfling
Ebony fingerboard
Spanish cedar neck
Snakehead shaped headstock; rosewood veneer
Celtic knot headstock inlay
No cutaway
Multiscale
Gold-plated Gotoh 510 Mini tuners & bronze Orrico tailpiece

Standard features include:
Spherically arched back
Spider bridge and resonator cone
Round soundholes
Radiused fingerboard
Maple saddle
Bone nut
Glossy lacquer finish by Addam Stark of Santa Cruz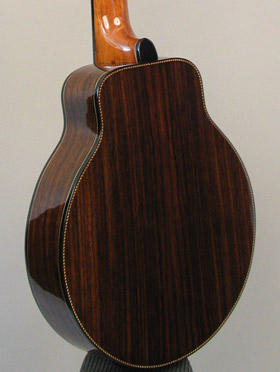 The ebony binding and herringbone purfling are quite handsome.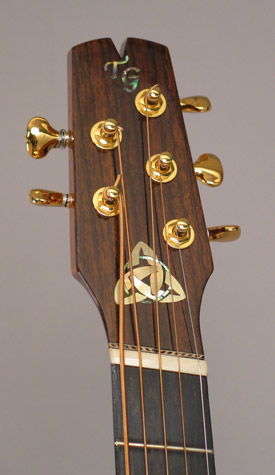 I thought the Celtic knot inlay would be appropriate for this instrument because I expect it to sound marvelous on Celtic music.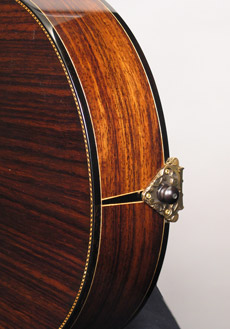 A closer look at the binding and purfling, and the inlay wedge on the tail.
You can see photos of this instrument under construction on its Shop Talk page.