Gallery of Mandonator™ Instruments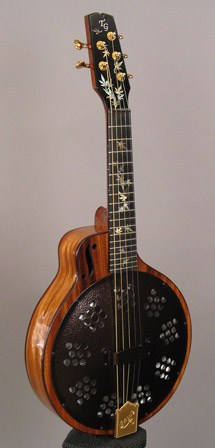 = Mandonator™ Serial #9 ===
This is a 5-string mandolin-mandola.
The optional features are:
Five strings with scale 14.295"
Monkeypod body with rosewood binding
One F-shaped soundhole
African ebony fingerboard
Multi-colored mother-of-pearl Japanese maple inlays on head and fingerboard
Snakehead shaped headstock and African ebony veneer
Gotoh 510 Mini tuners; James tailpiece
Gayle design resonator coverplate
Standard features include:
Spherically arched back
Mahogany neck
Radiused fingerboard
Spider bridge and resonator cone
Cutaway
Maple saddle and amber buffalo horn nut
Gloss nitrocellulose finish by Addam Stark of Santa Cruz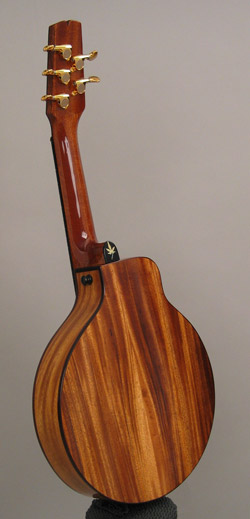 The rosewood binding accents the gorgeous wood of the monkeypod body very nicely. An extra maple leaf inlay found a home on the heel cap.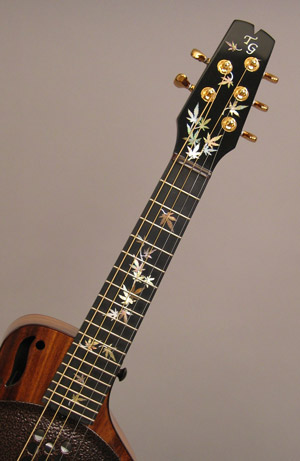 The Japanese maple leaf inlays glisten in light, and shift color as you move the instrument around.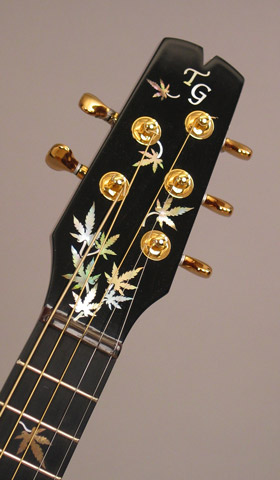 A closer look at some of the inlay.
You can see photos of this instrument under construction on its Shop Talk page.