A Look Into the Workshop
= Mandonator™ Serial #8 ===
This is an experimental 5-string baritone instrument. The tuning is like a 5-string Mandonator™ (EADGC), but an octave lower. Another way to look at it is that it's a combination of an octave mandolin and a mandocello with a resonator.
The optional features are:
Five string baritone (~22 to ~23.25" scale)
East Indian Rosewood body with ebony binding and herringbone purfling
Ebony fingerboard
Spanish cedar neck
Snakehead shaped headstock; rosewood veneer
Fancy headstock inlay
No cutaway
Multiscale
Gold-plated Gotoh 510 Mini tuners & bronze Orrico tailpiece

Standard features include:
Spherically arched back
Spider bridge and resonator cone
Round soundholes
Radiused fingerboard
Maple saddle
Bone nut
Glossy lacquer finish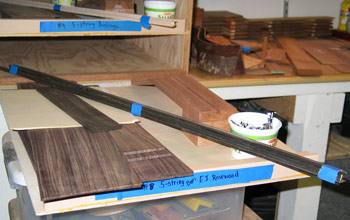 Parts for Mandonator™ 8 are gathered together in its dedicated tray drawer: rosewood body wood, neck and fingerboard blanks, binding, and tuners. The rosewood has had a first-pass thicknessing. After final thicknessing, I'll bookmatch and join the front and back plates, then bend and join the sides.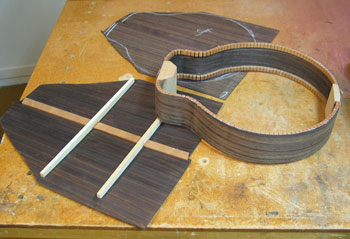 The wooden pieces of the body are nearly ready for assembly. You see the front and back halves bookmatched and joined; the back is braced; the bent sides are joined and lining and end blocks installed. Any residual glue will be cleaned up, and the raw edges of the side frame sanded flat and clean in preparation for attaching the top and back.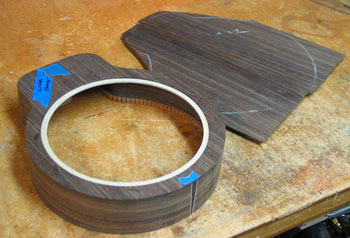 With the top and sides attached, the opening cut, and ledge for the resonator installed, the next steps are to cut the soundholes and attach the back.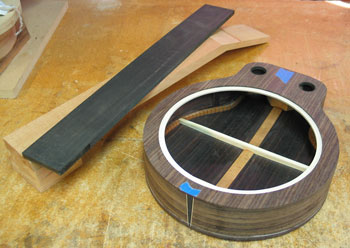 Here's the body with the soundholes, and back attached. It's starting to look like a Mandonator™!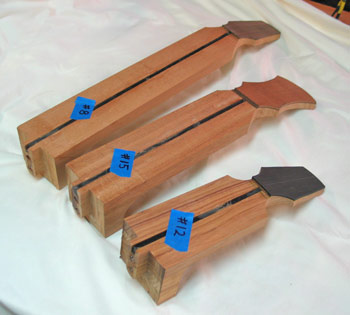 These are the necks, in progress, for instruments 8, 12, and 15. I've installed the graphite truss rods, created the tenons for the body joint, and attached the headstock veneers. The head and heel shapes have been roughed in. Meanwhile, I've been slotting the fretboards for these necks. Next in the process is to inlay the headstocks and fretboards. After that, I'll complete the fretboard shaping, install frets, and prepare to attach them to the necks.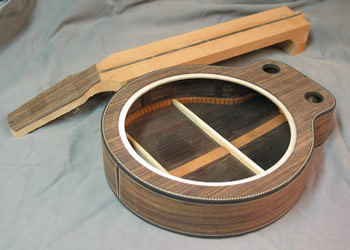 The body now has contrasting binding. There's also purfling inside the binding, which you can't see very well in this photo, but is very nice in person.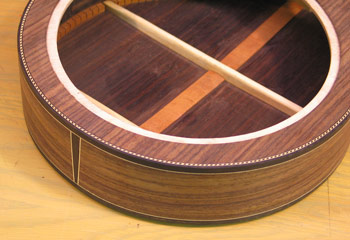 You can see the purfling a little better in this picture.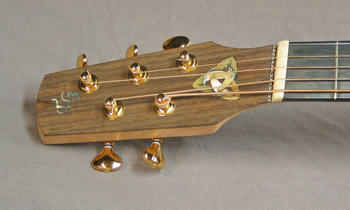 Here's the headstock, "in the white." The Celtic style Triskelion inlay in gold Mother-of-Pearl looks great with the gold plated tuners and other hardware.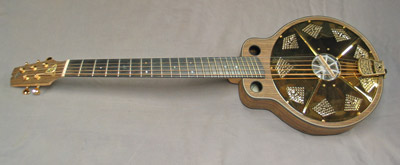 The instrument is still "in the white," but I've been playing it. The fret fanning has been very easy to play, and helps reduce the potential floppiness of the low C string.
Mandonator™ 8 has been completed! You can see photos of the finished instrument on its Gallery page.