Gallery of Mandonator™ Instruments
< Previous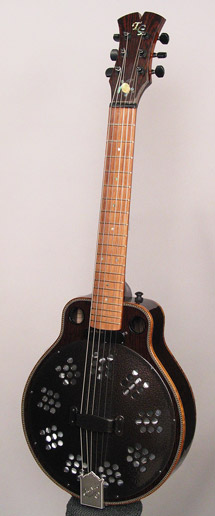 = Requintonator™ Serial #20 ===
This is not technically a Mandonator™, but (like #15) a short scale resonator guitar with 6 strings. It's as if a standard guitar had a capo on the 5th fret, making the tuning A, D, G, C, E, A. More information and sound samples for the Requintonator™ are on the Requintonator™ Introduction page.
The optional features are:
6 strings; scale 19.2"

Wenge body with curly koa binding

Herringbone and W-B-W purfling
Round ebony-lined soundholes

Maple neck with sunburst stain

Honduran rosewood fingerboard
Curvey, paddle-shape headstock with wenge veneer
Gold Mother of Pearl and abalone turtle inlay
Standard features include:
Spherically arched back
Radiused fingerboard

James tailpiece

Spider bridge and resonator cone

Gayle design coverplate

Gloss nitrocellulose finish by Addam Stark of Santa Cruz

I wanted the maple neck to blend artistically with the body and asked Addam Stark to be creative with stain. As you can see, he did a beautiful sunburst, which looks terrific on the instrument.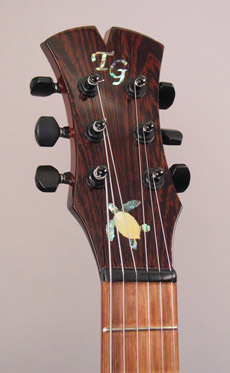 The headstock has wenge veneer inlayed with my logo and a turtle that I found irresistable.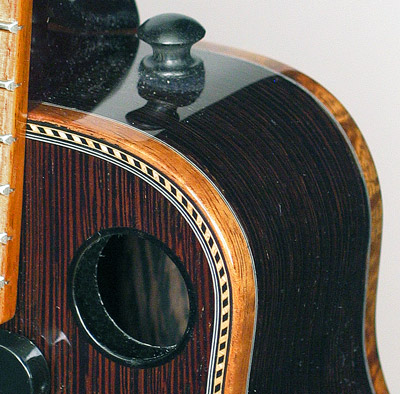 Here's a closer look at the binding and the Herringbone and B-W-B purfling.
The purfling extends down both sides of the curly koa inlay strip in the center of the back.
You can see photos of this instrument under construction on its Shop Talk page.
< Previous