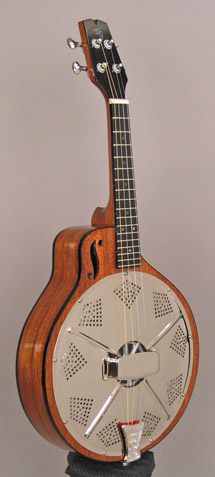 = Mandonator™ Serial #19 ===
This is a 4-string resonator mandolin. It was commissioned by Brad H.
The optional features he chose are:
4 string mandolin with 13.875" scale
Khaya mahogany body with ebony binding
Cutaway
F-shape soundhole
Khaya mahogany neck
Abalone inlays
Snakehead shaped headstock with ebony veneer
Allen tailpiece
Standard features include:
Spherically arched back
Nickel plated hardware
Radiused fingerboard
Spider bridge and resonator cone
Gloss nitrocellulose finish by Addam Stark of Santa Cruz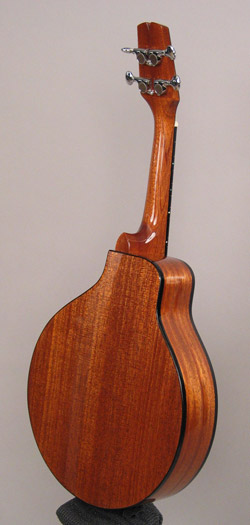 The ebony binding looks very handsome with the Khaya body.
You can see photos of this instrument under construction on its Shop Talk page.