A Look Into the Workshop
= Mandonator™ Serial #19 ===
This resonator mandolin was commissioned by Brad H.
The options he chose are:
4 string mandolin with 13.875" scale
Khaya mahogany body with ebony binding
Cutaway
F-shape soundhole
Khaya mahogany neck
Abalone inlays
Snakehead shaped headstock with ebony veneer
Allen tailpiece
Standard features include:
Spherically arched back
Nickel plated hardware
Radiused fingerboard
Spider bridge and resonator cone
Gloss nitrocellulose finish by Addam Stark of Santa Cruz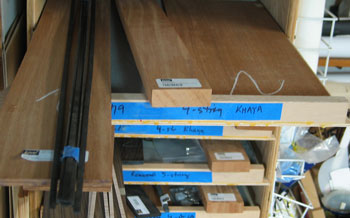 Most of the wood for Mandonator™ 19 has been gathered together in its dedicated shelf drawer.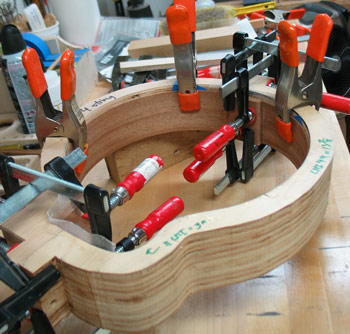 The sides are being joined with end blocks. The sides are held in a form and the end blocks are clamped in place while the glue dries.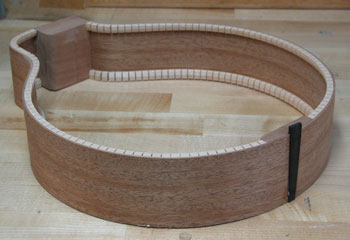 After the linings and end blocks were installed in the rim, I inlayed a contrasting decorative wood wedge in the tail. In this picture, the wedge still needs to be trimmed flush to the rim.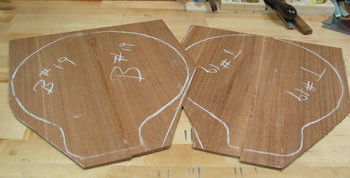 The freshly joined top and back. The join line will disappear when the residual glue is cleaned up. I use chalk to draw the outline of how they will join the instrument rim, carefully orienting it around the centerline of the pieces.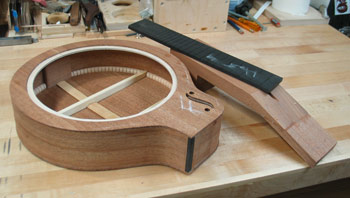 I joined the top to the rim, then cut the openings for the resonator cone and sound hole. Then I attached the back and trimmed the top and back flush to the rim. Here the body still needs to have binding installed.
The ebony binding makes a wonderful difference in the appearance of the body.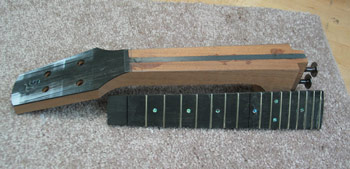 Neck and fingerboard, ready to be glued together. You can see the graphite truss rod in the center of the neck. I'll finish shaping and cleaning them after they're joined.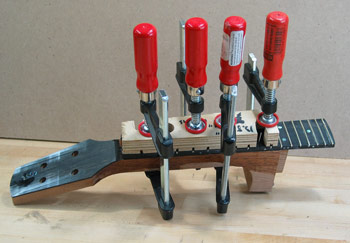 This is how the fingerboard is glued to the neck; it's clamped to the neck until the glue dries.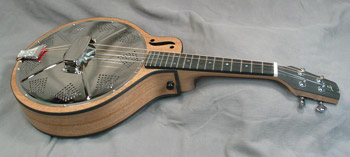 Here's Mandonator™ 19 in the white after passing its "road test." I'll remove the hardware and neck again for some final detailing, then take it to Addam Stark for a gloss lacquer finish
Mandonator™ 19 has been completed! You can see photos of the finished instrument on its Gallery page.