A Look Into the Workshop
= Resonator Banjo Serial #22 ===
This 6 string resonator banjo was commissioned by Steve R.
The options he chose are:
6 string banjo with 21-3/8" scale
Monkeypod body with rosewood binding
Cutaway
Round ebony-lined soundhole
Gold Mother of Pearl inlays
Custom headstock shape
Gold Grover mini Roto-lock tuners
Cast James tailpiece
Standard features include:
Spherically arched back
Radiused fingerboard
Gold plated hardware
Spider bridge and resonator cone
Gloss nitrocellulose finish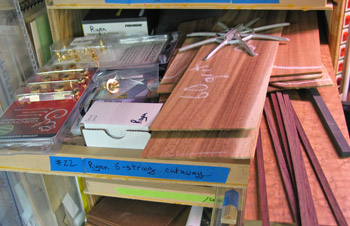 This shelf drawer is crowded with parts for the resonator banjo.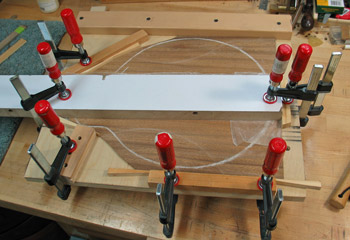 In this photo, the two halves of the instrument's front are being joined.
The two halves of the back are being joined. The back pieces are on a "dished" form and are weighted with sacks of gunshot. Yes, gunshot; a small sack is quite heavy and molds to different shapes. The result will be a spherically arched back.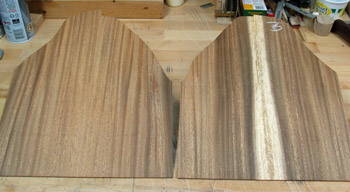 Here's the wood for the top (left) and back after their two halves have been joined.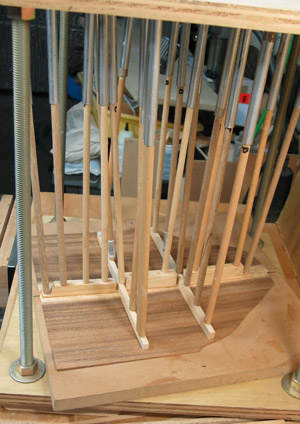 I install braces on the back of an instrument by using a go-bar deck, which clamps the braces to the back. The braces are arched to match the arch in the back and will help maintain the arch as well as strengthen the back.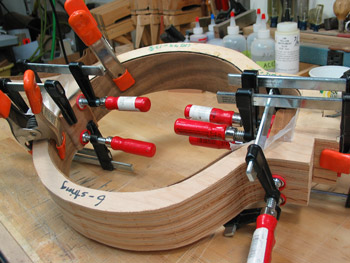 The sides are joined using end blocks. The sides are held in a form and the end blocks are clamped in place at each end. Wax paper separates the outside of the instrument body and the form to prevent any glue seepage from joining them together.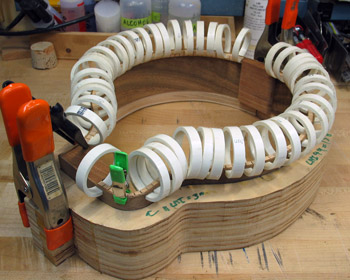 With the sides still in the form to help maintain their shape, the lining is being glued to the edge of the sides. All those white rings (which I made from slices of PVC) are clamping them together while the glue sets. Some of the lining is visible through the rings, and on either side of the small green clamp.