A Look Into the Workshop
= Zoukinator™ Serial #21 ===
This resonator Irish Bouzouki was commissioned by Robert L.
The options he chose are:
4 string Irish bouzouki with 26.75" scale (tuned GDAD)

Walnut body with rosewood binding and white purfling
Boxed maple purfling
Round ebony-lined soundholes
White Mother of Pearl inlays
Snakehead headstock shape

Black Gotoh 510 Mini tuners

Black cast James tailpiece
Fishman pickup
Clamp-on ebony armrest
Standard features include:
Spherically arched back
Radiused fingerboard
Spider bridge and resonator cone
Gloss nitrocellulose finish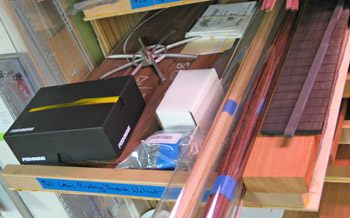 The parts for Zoukinator™ 21 have filled up its dedicated shelf drawer.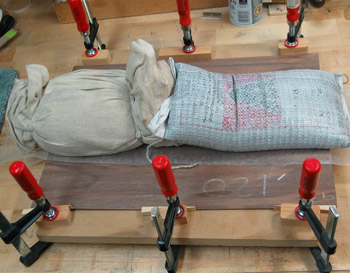 The two halves of the back are being joined. The back pieces are on a "dished" form and are weighted with sacks of gunshot. Yes, gunshot; a small sack is quite heavy and molds to different shapes. The result will be a spherically arched back.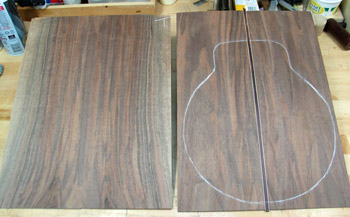 Here's the wood for the top (left) and back after their two halves have been joined. You can see that the back has a decorative inlay strip along the centerline.
The sides are joined using end blocks. The sides are held in a form and the end blocks are clamped in place at each end. Here you can clearly see the block at the neck end of the instrument. Wax paper separates the outside of the instrument body and the form to prevent any glue seepage from joining them together.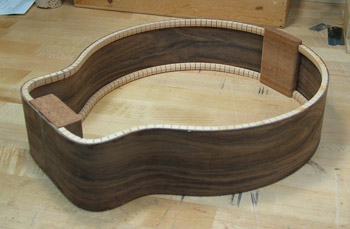 Here you see what the sides look like after they've been joined and the linings have been installed along the edges.