Gallery of Mandonator™ Instruments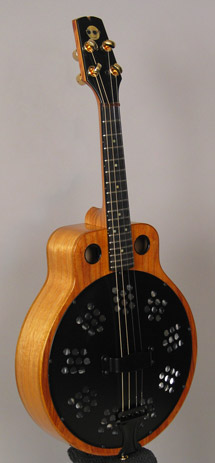 = Mandonator™ Serial #12 ===
This instrument was commissioned by Alan S.
The options he chose are:
Four strings with standard 13.875" mandolin scale
Canarywood body with canarywood binding
No cutaway
Two round, ebony-lined soundholes
Canarywood neck
Ebony fingerboard with gold MoP position marker dots
Snakehead shape headstock with ebony veneer
Custom headstock inlay
Ebony saddle and amber buffalo horn nut
Black tailpiece and Gayle design resonator coverplate
Gold Steinberger gearless tuners
Standard features include:
Spherically arched back
Radiused fingerboard
Spider bridge and resonator cone
Glossy lacquer finish by Addam Stark of Santa Cruz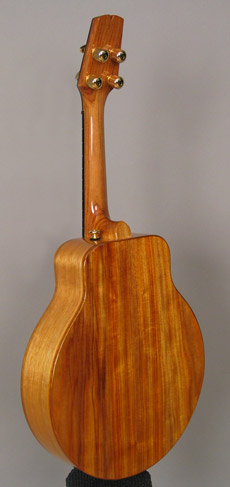 The variation in the grain and color of the canarywood is lovely. Alan wanted a gold and black instrument and that's certainly how it looks.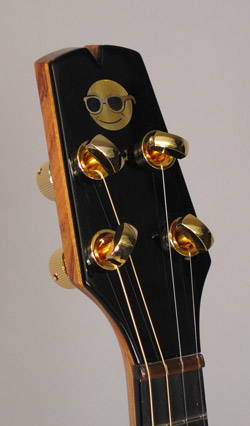 Alan requested the inlay design based on a favorite T-shirt of his. The Steinberger tuners are gearless and work quite well.
You can see photos of this instrument under construction on its Shop Talk page.