Gallery of Mandonator™ Instruments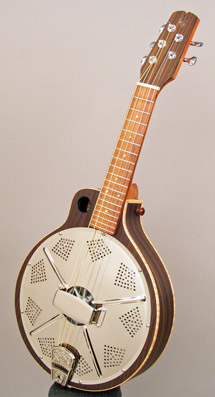 = Mandonator™ Serial #14 ===
This is a 5-string resonator mandolin-mandola. The tuning is EADGC, high to low. It was commissioned by Mary T.
The optional features she chose are:
5 strings with 14.295" scale
East Indian rosewood body with curly maple binding
Cutaway
Round ebony-lined soundhole
Khaya mahogany neck
Snakehead head shape with East Indian rosewood veneer
Honduras rosewood fingerboard with abalone position markers
Orrico tailpiece
Formby's satin tung-oil finish
Standard features include:
Spherically arched back
Nickel plated hardware
Radiused fingerboard
Spider bridge and resonator cone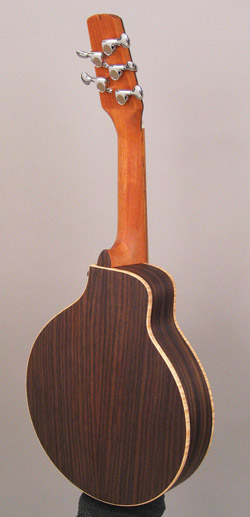 The curly maple binding is lovely against the dark rosewood of the body.
You can see photos of this instrument under construction on its Shop Talk page.