Gallery of Mandonator™ Instruments
= Mandonator™ Serial #4 ===
The optional features are:
Four strings with standard 13.875" mandolin scale
Figured walnut body with Camatillo rosewood binding.
Mahogany neck
Ovangkol fingerboard
Curvy, paddle shape headstock with figured walnut veneer
Abalone heart and white mother of pearl inlays
Nickel plated hardware
Orrico tailpiece
Radiused fingerboard
Standard features include:
Spherically arched back
Spider bridge and resonator cone
Cutaway
Traditional F-shaped soundhole
Maple saddle
Bone nut
Glossy lacquer finish by Addam Stark of Santa Cruz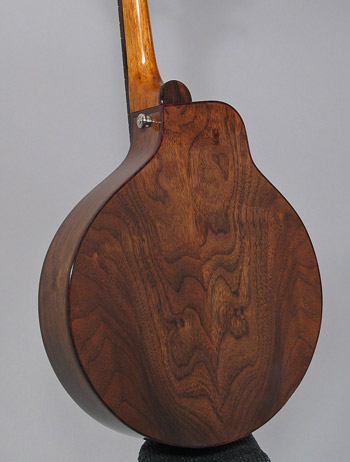 The gorgeous walnut body was made from a board that my dad had in his garage for a long time - it was old and stable and very pretty.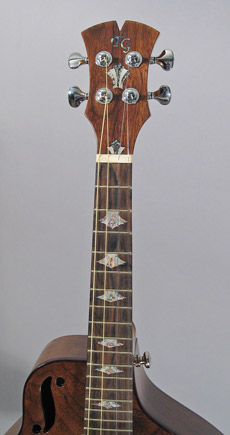 Ovangkol fingerboard with fancy position marker inlays
Curvy paddle shape headstock with figured walnut veneer and fancy inlays.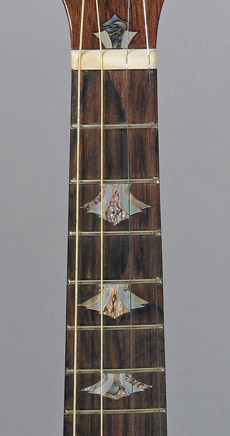 Here's a close up of the beautiful figure in the ovangkol fingerboard, and a few of the inlays.
You can see photos of this instrument under construction on its Shop Talk page.