Gallery of Mandonator™ Instruments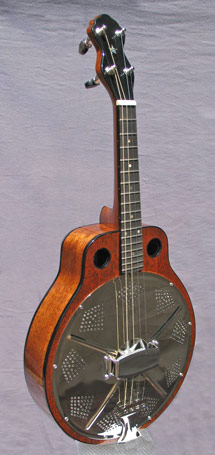 = Mandonator™ Serial #5 ===
This instrument was commissioned by multi-instrumentalist David Hansen. He posted the following comment about it on Mandolin Cafe: "I am the proud owner of Mandonator™ #5 ... I must say that the instrument is absolutely gorgeous and the craftsmanship is top notch. What really grabs your attention, though, is the tone: it has a very mellow, sweet tone that also has plenty of volume and presence to it. It's effortless to play, as well, but what I really like about it is the tone; it has a very unique voice."
The options he chose are:
Four strings with standard 13.875" mandolin scale
Mahogany body with black ebony binding
No cutaway
Two round soundholes with ebony linings
Mahogany neck
Ebony fingerboard
Abalone fingerboard position markers
Black ebony headstock veneer with abalone star inlay
Banjo-shaped head
Nickel plated hardware
Gold Star banjo tuners
Resonator guitar-style stamped tailpiece
Standard features include:
Spherically arched back
Radiused fingerboard
Spider bridge and resonator cone
Maple saddle
Bone nut
Glossy lacquer finish by Addam Stark of Santa Cruz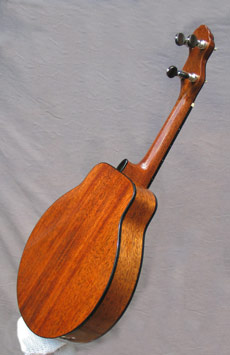 Body and neck of mahogany; ebony binding.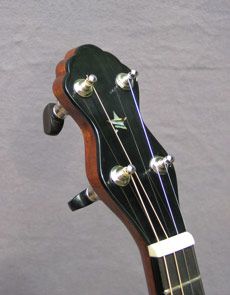 David requested a banjo-shaped head and banjo tuners.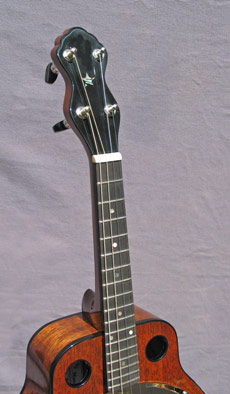 I machined the soundhole liners out of a single piece of solid ebony. The liners incorporate internal reinforcing flanges.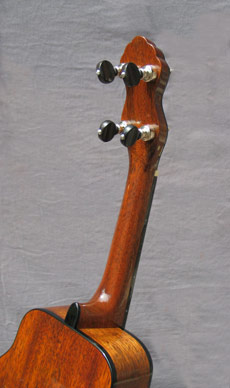 The use of ebony on the soundhole liners, binding, fingerboard, headstock, heel cap, and tuner buttons provides a very unified effect.
You can see photos of this instrument under construction on its Shop Talk page.